Company name: O. Schaefer & Scheibe, later always with suffix Nachf. (= successor)
Address: Ritterstr. 111, Berlin S. (1898), moved to Lichtenberg near Berlin, Rittergutstr. in c. 1912
In business from: 1844 to early 1921
Printer: yes Publisher: yes
Means of production / workforce: 9 printing presses / 87 other machines / 300 workers (1913)
Trademark(s):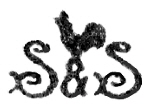 S&S with 'weathercock' on top logo - early cards show full name imprinted. The logo can be found somewhere on picture as well as on address side.
Specialised in: OSS were not only typical chromolitho printers but also a deLuxe paper manufacturer. Typical 'Gruss aus' as well as any other type of (subject) postcards, poster, relief printing, menue, place cards, chromo's etc
Notes: Business column in "Papier-Zeitung" Dec. 1897 issue mentions that OSS had been under control of (local competitor) Littauer & Boysen. Owner since Feb. 20, 1898 was Heinrich Schaar. Since 1904 the company was run by widow Mathilde Schaar together with Adolf Hildesheimer. In 1912 the firm was converted into a limited company. Schaefer & Scheibe had a very good reputation for their high-quality chromolitho work. Supplied many early 'Greetings from' type cards to various countries, eg. to Russia in 1897.
OSS card numbering appears to be a little bit mysterious. Individual card no's on early production (eg. no. 6663 = p/u in Feb. 1900). Then we find 4-digit series no's but also many cards without any mention of card/series number but logo only.
Illustrations (from top):