The early years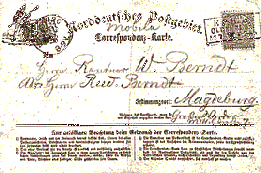 From 1 July 1872 on private issued ppc's were allowed in Germany. Early cards carried small vignette type illustrations, were usually monochrome printed, by letterpress (line art/halftone etchings, litho process, sometimes just with rubber stamp imprints.
Since the 1870's deluxe (fancy) paper manufacturers ("Luxuspapierfabriken") trade grew a great deal, with most of their production exported worldwide. "deluxe Paper" covers a wide field of paper articles incl. greeting cards. The major printing process for these goods was chromolithography, colourful printed by 12-16 different colour runs, then often embossed, gilded, die-cut etc.
The chromolithographic trade was well-established in Germany with many highly skilled lithographers and pressmen. It is not surprising that this process was soon used for picture postcards and the "Gruss aus / Greetings from" type card design was born and widely used from c. 1894-95 on.
The first company using the chromolithographic process (full colour) for ppc's is said to be J. Miesler from Berlin. The 1876 established printer/publisher is sometimes mentioned in literature to have invented the coloured "Greetings from" type cards(?).
The Postcard boom
started by about the mid 1890's in Germany. To meet the demand, established chromolitho printers enlarged their capacities. Faster, modern (flatbed) presses with bigger printing formats, improved prepress equipment and techniques came in use. New firms concentrating on ppc printing were set up by businessmen who had realised the profit potential of the picture postcards, now not only used for correspondence but starting to become an item of interest to collectors.
The big, well-known postcard publisher Ottmar Zieher, Mu
nich, claimed having published 6000 different cards from Germany and Austria-Hungary by Oct. 1895. For November that year Zieher announced to have complete series of coloured cards with views from America, Belgium, England, France, Holland, Italy, Portugal, Switzerland, Scandinavia, Spain and Turkey / Orient on offer to collectors. 10 cards for 0,80 Mark and 100 for 5 Mark. Indeed I believe that at that time many of the ppc's showing views from faraway places printed in Germany were mostly sold to (German) collectors rather than exported. By the way, many O. Zieher cards were printed by E. Pinkau & Co, Leipzig, Saxony.